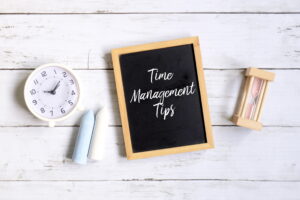 Even though the kids are home, I have had more down time than I have had in about 4 years.  In fact, on March 18th, our calendar was completely jam packed with soccer, dance, school sports and events, basketball, church activities, and volunteer work.  On March 19th, all of it was cancelled.  My calendar became a blank canvas overnight.  After the shock wore off and the reality that COVID-19 was going to affect us after all sunk in, I was finally able to give thought to what I should do with myself.  I could binge on Netflix and take extra naps, but instead I am viewing this time as a gift.  Time had become an elusive commodity that ran a constant shortage in my life, so I am trying really hard to use it wisely now.  I hope to look back when we talk about the impact this time had on our lives and be able to talk about a few things I accomplished.  Since it is really easy to get lost in all of this time and procrastinate, here are 4 time management strategies you can use to GET STUFF DONE.
First, maintain your normal sleep schedule.  Sleep routines were one of the first things I saw go in the lives of many clients who either switched to working at home, or unfortunately, were asked to stay home from work.  Staying on a normal sleep schedule will help you maintain more normal body rhythms, which then keeps you on schedule with normal hormone regulation.  This all means you will wake up easier, fall asleep faster, sleep better, and feel much more in sync during your day.
Second, stay on an eating schedule.  Your meal and snack routines are just as important as a regular sleep schedule.  Eating breakfast within an hour of waking up, and following with regular, balanced meals and snacks will keep you focused, energized, and ahead of your hunger.  When you are ahead of your hunger you are much less likely to find yourself grazing on chips and cookies, which add up to extra pounds much faster than you think.
Third, plan your time well.  That blank calendar can end up being a major obstacle.  A blank calendar stifles motivation today, because it can always be done tomorrow.  To fight this lazy tendency, every Sunday evening make a list of what you need, or want, to accomplish that week.  Then, plan everything into all of the open space to give yourself a road map that keeps you moving forward.  Write down workouts, meals you plan to cook, going to the grocery store, work hours, kids' Zoom meetings, quick tasks, and be sure to block out time for those big projects that have been neglected all these years.  After everything is written in, use your calendar daily and check tasks and projects off as you go.
Fourth, seize the day.  Since the kids are home, wake up early and do the most important thing on your calendar that day first thing in the morning.  Once that is done, tackle the smaller less important jobs that can be easier to squeeze in between time spent with the kids.  This will keep your stress level way down, which means you will be a nicer mom or dad who has things under control.  As good as sleeping in feels in that moment, I am always more stressed out those days trying to cram in important work.  I feel overwhelmed and the quality of my work suffers.  The best part about getting up early means I actually have time for an afternoon nap!