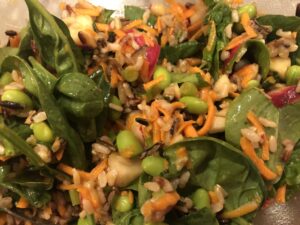 Serves 4
Ingredients
1/2 teaspoon fine sea salt, optional
1 cup wild rice, rinsed
Double batch of Creamy Apple Cider Vinaigrette (below)
6 radishes, diced
3 cups loosely packed, finely chopped kale
3 carrots, grated
6 scallions, white and green parts, thinly sliced
1 cup frozen shelled edamame, cooked according to package directions
Ground black pepper
Directions
First, cook wild rice according to package directions.
Second, once cooked, drain the rice, transfer to a large salad bowl, and toss with half the dressing.
Next, allow the rice to cook, then add the radishes, kale, carrots, scallions and edamame and toss until combined.Add more dressing, salt and pepper to taste.
Let the salad marinate in the fridge for at least 30 minutes prior to serving.
Creamy Apple Cider Vinaigrette
Makes 1/2 cup
1/3 cup extra-virgin olive oil
1/4 cup apple cider vinegar
1 Tbsp Dijon mustard
1/2 shallot, minced
1/4 tsp fine sea salt, optional
1/4 tsp freshly ground black pepper
This dressing is delicious as is, or add 2 Tbsp tahini for a creamier texture.
Nutrition info (per serving):  325 cals, 28 gms carbs, 10 gms protein, 21 gms fat (13 gms mono), 7 gms fiber, 6 gms sugar, 663 mgs sodium
To lighten up the calories, just use less vinaigrette.  I don't usually need the full amount for this recipe and then I use the vinaigrette for something else later in the week.