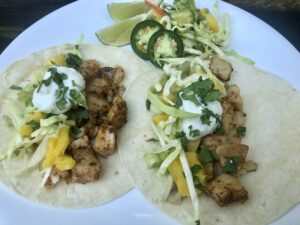 Serves 4                                 
Cook time: 30 minutes
Ingredients:
1 lb white fish like halibut, tilapia or cod, thawed
Spice mix:
½ tsp. dried oregano
½ tsp ground cumin
½ tsp. salt, divided
¼ tsp cayenne pepper
½ tsp  garlic powder
Topping:
½ cup light sour cream
1 tsp. lime zest
Cole Slaw mix:
1 ½ cups shredded napa or savoy cabbage
1 medium mango, peeled and chopped
1 medium avocado, chopped
3 green onions, sliced thinly
½ to medium fresh jalapeño chile pepper
1 Tbsp. lime juice
1 tsp. olive oil
1/8 tsp. black pepper
Ingredients to serve and garnish:
8 6-inch corn tortillas, warmed
¼ cup fresh cilantro, chopped
Lime wedges (optional)
Directions:
Thaw and rinse fish.  Pat dry with paper towels.  Cut into 1-inch pieces and place in a medium bowl.  In separate bowl, combine oregano, cumin, 1/8 tsp. of the salt, cayenne pepper, garlic powder.  Add spice mixture to fish and toss gently to coat.
Spray a large skillet with nonstick cooking spray and heat over medium heat.  Add fish and cook without stirring for 2 minutes.  Stir occasionally until heated through about 5-7 minutes.
In a small bowl, combine sour cream and lime zest.
In a medium bowl, combine cabbage, mango, avocado, green onions, jalapeño, and cilantro.  Mix dressing in a small bowl by combining lime juice, oil, pepper and the remaining salt.  Pour dressing over cabbage mixture and toss gently to coat.
To assemble tacos, spoon fish onto half of each warm tortilla.  Top with cabbage mixture.  Fold tortillas over and serve with sour cream and lime wedges.
Nutrition info (per 2 tacos): 369 calories, 12 gm fat, 434 mgs sodium, 36 gm carbs (7 gm fiber, 10 gm sugar), 30 gm protein