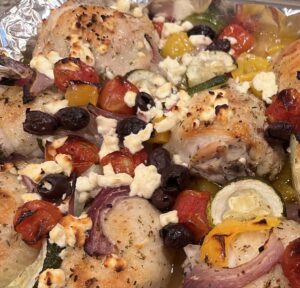 Servings: 6
Total prep and cook time:  1 hour (15 mins prep/45 mins baking time)
I mix the marinade and toss the chicken into it first to start the marinade time.  While the chicken is marinading, I chop the vegetables.
Ingredients:
½ cup olive oil
1 lemon, juiced or about 3 Tablespoons
4 garlic cloves, minced
2 tsp dried oregano
1 tsp dried thyme
1 tsp Dijon mustard
1 tsp kosher salt (optional)
½ tsp ground black pepper
6 chicken thighs, bone-in, skin-on
1 medium zucchini, halved lengthwise and sliced
1 yellow or red bell pepper, chopped into 1-inch pieces
½ large red onion, thinly sliced into wedges
1 pint cherry tomatoes
½ cup pitted kalamata olives
¼ cup feta cheese
Directions:
Preheat the oven to 425 degrees F.  In a small bowl, whisk together the oil, lemon juice, garlic, oregano, thyme, Dijon mustard, salt, and pepper.
Place the chicken thighs in a bowl and pour 2/3 of the marinade over the chicken. Use tongs to toss the chicken in the marinade until well coated.  Marinate the chicken for 15 to 20 minutes.
While the chicken is marinating, chop the vegetables.  Spread the zucchini, bell pepper, red onion, and tomatoes onto the baking sheet and pour the remaining 1/3 cup marinade over them.  Toss the vegetables in the marinade until well coated.
Add the chicken thighs to the baking sheet nestling them around the vegetables and bake for 30 minutes.  At 30 minutes, add the olives and feta cheese and bake another 10 to 15 minutes.  Chicken is done when the internal temperature is 165 degrees F.
Nutrition information for 1 chicken thigh and about 1 cup vegetables:  450 calories, 10 gm carbs, 26 gm protein, 35 gm fat (9 gm saturated, 6gm poly, 17 gm mono), 147 mg cholesterol, 767 mg sodium, 671 mg potassium, 3 gm fiber, 4 gm sugar, 810 IUs Vitamin A, 73 mg Vitamin C, 92 mg calcium, 3 mg iron.
Nutrition tips:
To reduce some calories and saturated fat, don't eat the skin on the chicken.
Leave the salt out of the marinade to make this meal about 400 mg sodium per serving instead of 767 mg.
For a healthy 450 calorie meal, don't eat the skin on the chicken and serve over ½ cup brown rice or with ½ cup grapes on the side.