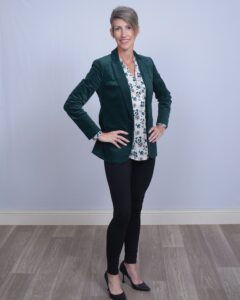 I developed a love for running in high school, and Devils Tower, Wyoming was my training ground.  Pounding those dirt trails led me to Omaha to run cross country and track as a UNO Mav while earning a degree in Dietetics.  I completed my accredited Dietetic internship at the VA San Diego Healthcare System in La Jolla.  After that amazing year of California dreamin', I returned to Omaha and started my career in community health.  I pursued sports nutrition as a side hustle, earning my certification as a Certified Sports Dietitian in 2012, and eventually started my own business in sports nutrition and weight loss counseling in 2019.  I still dabble in clinical nutrition working part time at OneWorld Community Health Center, and I have been teaching Nutrition for Oral Health each spring semester since 2013 to the freshman Dental students at Creighton University.
I love life, and I am passionate to help everyone feel and be their best. Whatever you are working for, I believe health and wellness play a major part in your success, and I have the skills, knowledge and experience to make sure you achieve your goals.
4 things you may not know about me:
I met my husband when I was 15!  After 11 years of us both crossing paths, going different directions, and moving around to different places we finally…actually… got married.
I hate spiders.
I ran/hiked down the South Rim of the Grand Canyon to the Colorado River and back up in 7.5 hours!
After seeing many pictures of Le Mont-Saint-Michel in France, I actually made it there… in… person.