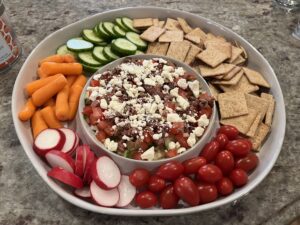 This is my go-to when I need something fast and easy for a party or holiday get together.  You could make your own hummus, but why take the time when the veggies dress it up anyway?
Serves: 10
Serving size: ¼ cup of dip
Prep time: 10 minutes
Ingredients:
10-ounce container of classic hummus
½ cucumber, diced
1 medium sized tomato, seeded, and chopped
1/3 cup black or Kalamata olives, pitted, and finely chopped
¼ cup feta cheese
Fresh vegetables for dipping like carrots, cucumber slices, pepper strips, or sliced radishes and a whole wheat cracker like Wheat Thins or pita chips.
Nutrition information per ¼ cup serving:  90 calories, 6 gm carbs (1 gm fiber, 1 gm sugar), 6 gm Total fat (1 gm sat, 1 gm mono), 3 gm protein, 3 mg cholesterol, 225 mg sodium, and 41 mg potassium