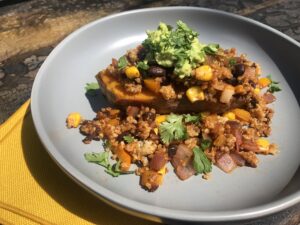 Did you know black beans and sweet potatoes go together like peanut butter and jelly?  Give this recipe a try and find out for yourself!
Servings: 4
Prep time: 1 hour
Ingredients:
2 sweet potatoes, baked at 400 degrees F for one hour or until cooked through.
1 Tbsp avocado oil
1 – 15 oz can black beans, drained and rinsed
½ cup canned corn, drained
2 cups quinoa, cooked per instructions on the package
1 yellow or red pepper, diced
½ red onion, diced
1 Tbsp chili powder
1 tsp cumin
½ tsp smoked paprika
1 avocado, mashed
1 tsp lemon juice
¼ to ½ cup Cilantro, chopped
Directions:
Heat 1 Tbsp avocado oil in a skillet over medium heat.  Add diced pepper and onion and cook until tender about 5 minutes.  Add black beans, corn, quinoa, chili powder, cumin and paprika to the skillet and heat through.  Add 1 tsp lemon juice to mashed avocado.
Cut sweet potatoes in half and place on 4 separate plates or save for later.  Top each half with 1 cup of the bean mixture.  Divide avocado over each serving.  Top each half with cilantro.  Enjoy!
Nutrition info per serving (1 half sweet potato, 1 cup bean mixture, and ¼ of mashed avocado):   392 calories, 60.8 gm carbs (16.7 gm fiber, 7.2 gm sugar), 12 gm fat (1.6 gm sat fat, 6.7 gm mono, 2.5 gm poly), 14 gm protein, 600 mg sodium, 25% DV iron, 1066 mg potassium, 195.9% DV Vitamin A, 62.4% DV Vitamin C.
This dish is loaded with quality carbs, so if you would like to make it lighter, drop the quinoa and corn, and add a glass of low-fat milk on the side to make up the difference.  Prep this on the weekend for 4 easy week day meals.