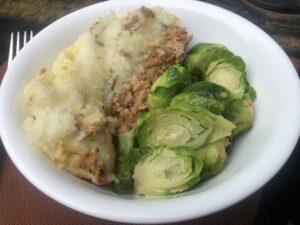 Prep: 20-30 minutes
Cook Time: 1 Hour
Servings: 8
Turkey Loaf
1 pound lean ground turkey
½ cup quick or old-fashioned oats
1/3 cup chili sauce or ketchup
1/3 cup finely chopped onion
1 egg, lightly beaten
1/2 – 1 tsp minced garlic
1 teaspoon dried oregano
½ teaspoon salt
1/8 teaspoon ground pepper
Garlic Mashed Potatoes
1 ½ pounds unpeeled potatoes cut into 1-inch pieces
2-3 tsp minced garlic
1/3 cup fat-free sour cream
2 tablespoons skim milk
2 tablespoons snipped fresh parsley
½ teaspoon salt
1/8 teaspoon ground pepper
Preheat the oven to 350 degrees.
For the loaf, combine the ground turkey, oats, chili sauce, onion, egg, garlic, oregano, salt and pepper in a large mixing bowl and mix well.  Press into a 5 x 9 inch loaf pan.  Bake for 40 minutes.
Once the loaf is in the oven, cover the potatoes with water in a 2-quart saucepan.  Bring to a boil and boil 15-20 minutes until potatoes are tender.  Drain the water then mash the potatoes in a large mixing bowl.  Stir in the garlic, sour cream, skim milk, parsley, salt and pepper and mix well.  Once the turkey loaf has baked for 40 minutes, spread the potato mixture over the baked loaf.  Bake for 15 to 20 minutes longer or until light brown.  Enjoy!
Nutrition information per serving:  334 calories, 36 gm carbs (2 gm fiber, 4 gm sugar),   Fat 10 gm (3 gm sat fat, 2 gm Mono, 1 gm Poly), 24 gm protein, 249 mg cholesterol, 505 mg sodium, 748 mg potassium
Serve with 1-2 cups of your favorite roasted or steamed vegetable to round out this meal.