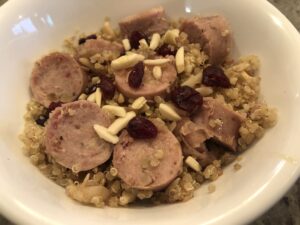 Serves: 4
Serving size: 1 cup
Prep: 5 minutes
Cook time: 17 minutes
Ingredients:
4 oz slivered almonds
¾ cup dry quinoa
3 Tbsp dried cranberries
1 Tbsp honey or agave
Directions:
Heat a large saucepan over medium-high heat.  Add almonds and cook 2 minutes or until beginning to lightly brown, stirring frequently.  Set aside on separate plate.
Pour 1 ½ cups water into the saucepan and bring to a boil, add the quinoa, reduce heat to low, cover and cook 13-15 minutes or until liquid is absorbed.  Remove from heat and let stand, covered for 5 minutes.
Top with the almonds and cranberries.  Drizzle with honey.
*Tip: Microwave a chicken sausage, slice and mix into the quinoa for a boost of protein. 
Nutrition info for 1 cup serving:  330 calories, 16 gms fat (1.3 gms sat, 0 mg cholesterol, sodium 0 mg, 385 mg potassium, 39 gms carbs (6 gms fiber, 12 gms sugar), 11 gms protein, 285 mgs phosphorous
*1 cup quinoa with 1 chicken sausage:  430 calories, 22 gms fat, 41 gms carbs, 21 gms protein