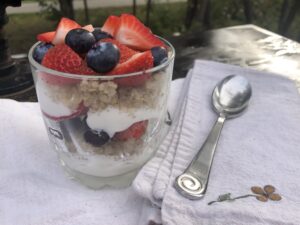 Servings: 4
Ingredients:
2 cups quinoa, cooked
2 cups cup low-fat greek yogurt, any flavor
2 cup blueberries, or fruit of choice
4 Tbsp chopped nuts (walnuts, almonds, pecans)
cinnamon, to taste
In 4 small cups or bowls, layer ¼ cup quinoa, ¼ cup yogurt, ¼ cup berries; repeat. Top with chopped nuts and cinnamon to taste. Enjoy!
Nutrition Info per parfait: 265 calories, 37 gms carbs, 8 gms fat, 17 gms pro