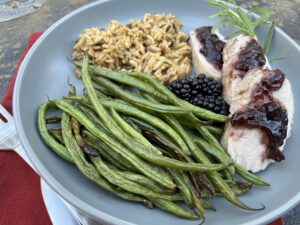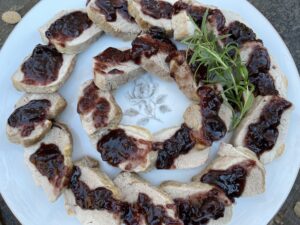 Serves 10
Serving Size: 3 ounces with 1 Tbsp sauce
Prep time: 15 minutes
Cooking time: 25-30 minutes
Ingredients:
2 pork tenderloins (1 pound each)
½ tsp kosher salt (optional)
½ tsp freshly ground black pepper
1 ½ Tbsp olive oil
½ cup no-sugar-added blackberry jam
¼ cup low-fat, reduced-sodium chicken broth
1 Tbsp red wine vinegar
1 Tbsp light soy sauce
1 large shallot, peeled and finely minced
¼ cup dry white wine
Garnish
2 Tbsp freshly minced sage or rosemary (pictured)
1 Tbsp lemon zest
½ cup fresh blackberries
Directions:
Preheat the oven to 400 degrees F.  Line a baking sheet with parchment paper; set aside.
Sprinkle the pork tenderloins with salt and pepper.  Heat the olive oil in a large skillet over medium-high heat.  Add the pork and sear for 5 to 6 minutes.  Turn the pork and sear for an additional 5 to 6 minutes.  Sear the pork on all sides to seal in the juices.  Place the pork on the prepared baking sheet and roast for 20 to 25 minutes.
In a small bowl, combine the preserves, broth, vinegar, and soy sauce.
Add the shallot and white wine to the skillet and sauté for 3 to 4 minutes, until the wine is absorbed and you are scraping up the brown bits.  Add the blackberry sauce to the skillet and simmer on low heat for 1 to 2 minutes.
Slice the cooked pork and place on a platter.  Drizzle the pork with the blackberry sauce and garnish with sage, lemon zest and blackberries.
Nutrition information per 3 oz serving with 1 Tbsp sauce:  130 calories, 4gm Total fat (1 gm sat fat), 4 gm carbs (2 gm fiber, 1 gm sugar), 18 gm protein, 50 mg cholesterol, 190 mg sodium, 330 mg potassium, 165 mg phosphorous.