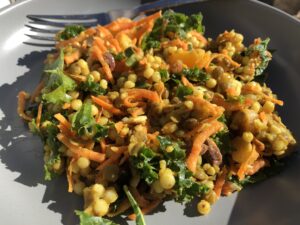 This salad takes some time to prep, so give yourself 45 minutes to an hour.  This is one of those that I like to prep while drinking a mocktail (or cocktail) dancing to music on the weekend when I have some time to spare.  The time savings comes during the week when you have a quick dinner or a delicious lunch ready and waiting in the fridge.
Serves: 6
Ingredients:
1 cup dried lentils, sorted and rinsed
½ tsp fine sea salt
3 medium carrots, peeled and grated
2 cups loosely packed, chopped kale
½ cup chopped toasted pistachios or almonds
½ cup chopped dried apricots
¼ cup pitted, chopped kalamata olives
1 tsp ground cumin
1 tsp ground turmeric
1 tsp ground cinnamon
¼ tsp ground black pepper
5 cups riced cauliflower or 1 cup uncooked couscous
Maple-Dijon Apple Cider Vinaigrette (recipe under "Salads")
Directions:
Steam the cauliflower until just tender and then rice it in a food processor to give it time to cool, or prepare the couscous according to package directions.
Cook lentils according to package directions until tender.
While lentils are cooking, mix the carrots, kale, nuts, apricots, olives, and spices in a large bowl.  Once cauliflower or couscous and lentils are cooled, add to kale mixture and toss until combined well.  Add two-thirds of the dressing and toss the salad to coat.  Add more dressing to taste as desired.  Cover the salad and place in the fridge to chill for at least 30 minutes or until ready to serve.
Nutrition information per serving:  265 cals, 13 gm fat (1 gm sat, 4 gm mono, 2 gm poly), 515 mg sodium, 428 mg potassium, 35 gm carbs (11 gm fiber, 5 gm sugar) 11 gm protein, 646% DV Vitamin A, 31% DV Vitamin C, 13% DV iron.