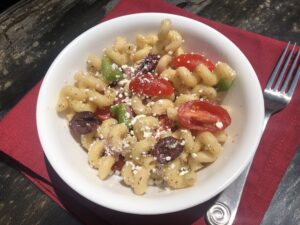 Prep: 3 Hours
Cook time: 10 minutes
Servings: 8
Ingredients:
2 ½ cups uncooked pasta, such as penne or rotini
2/3 cup sliced red onions
15 cherry tomatoes, halved
1/2 cucumber, chopped
¾ cup sliced olives
¾ cup diced green peppers
1 cup crumbled feta cheese
For the vinaigrette:
1/3 cup red wine vinegar
2 tsp freshly squeezed lemon juice
1 ½ tsp minced garlic
1 tsp sugar
2 tsp dried oregano
½ cup extra-virgin olive oil
Directions:
Cook the pasta according to directions on the box.  Drain and transfer to a large bowl to cool.  While the pasta is cooling, make the dressing.
In a small bowl, whisk together all of the dressing ingredients, except for the olive oil.  While whisking, stream in the olive oil.  Season the dressing with salt and pepper, to taste.
Add the red onions, tomatoes, cucumbers, olives, green peppers and feta cheese to the bowl with the pasta.  Pour the dressing over pasta and vegetables, toss to combine, and cover with plastic wrap.  Refrigerate for at least 3 hours to allow flavors to blend.  Stir before serving.
Nutrition info (per serving): 274 calories, 18 gm carb (1 gm fiber, 1 gm sugar), 19 gm fat (4 gm sat fat), 5 gm protein, 412 mg sodium, 7% DV Vitamin A, 24% DV Vitamin C, 12% DV calcium