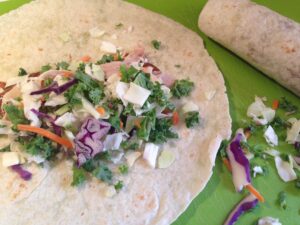 Ingredients:
2 Tbsp creamy peanut butter
2 Tbsp Hoisin Sauce
1 Tbsp packed brown sugar
1 Tbsp hot water
1 tsp sesame or vegetable oil
4 flour tortillas (8 to 10 inch), whole wheat preferred
½ lb shredded roasted chicken (Rotisserie from grocery store)
1 bag Asian Chopped Salad mix
Directions:
In small bowl, beat peanut butter, Hoisin sauce, brown sugar, water and oil with wire whisk until blended.  Spread about 2 tablespoons peanut butter mixture over each tortilla.  Top each with one-fourth of the chicken about 1/3 cup lettuce, about 1/3 cup carrots and 2 tbsp cilantro.  Roll up tortillas.
Nutrition Info:  1 Roll-up:  290 calories, 10 gms total fat, 540 mgs sodium, 35 gms carbs, 3 gm dietary fiber, 16 gms protein
Tip:  Use Rotisserie chicken for the Asian Rollups.