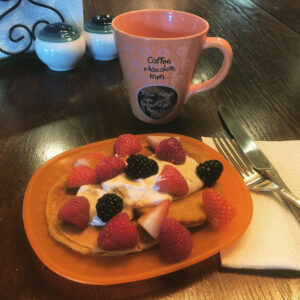 Prep: 15 minutes
Makes: 6 pancakes
Servings: 3 (2 pancakes each)
Ingredients:
1 egg
1 medium sweet potato, baked and cooled
½ cup all-purpose flour
½ cup whole wheat flour
1 Tbsp sugar
3 tsp baking powder
1 tsp ground cinnamon
½ tsp ground nutmeg
½ tsp ground cloves
¼ tsp salt
¾ cup low-fat milk
2 Tbsp vegetable oil
Directions:
In medium bowl, beat egg and sweet potato with wire whisk or handmixer until smooth.  Stir in remaining ingredients just until flour is moistened.  Do not overmix or pancakes will be tough.  If batter is thick, add 1-2 Tbsp milk, and stir.  Repeat until desired consistency.
Heat griddle to 375 degrees.  Pour slightly less than ¼ cup batter onto griddle.  Cook until bubbly on top and dry around the edges.  Flip and cook until other side is golden brown.
Nutrition info (1 serving or 2 pancakes):  301 calories, 12 gm fat (3 gm mono, 6 gm poly), 740 mg sodium, 31 mg potassium, 38 gm carbs (3 gm fiber, 8 gm sugar), 9 gm protein, 6% DV iron
Tip:  Make a big batch and freeze them.  Defrost them in the microwave for just a few seconds and either heat them up in the toaster or microwave for a fast, filling breakfast.