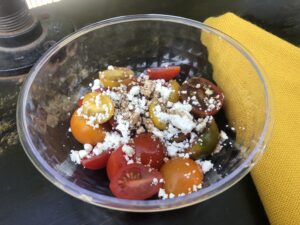 1 serving
Ingredients:
6-8 grape or cherry tomatoes
2 Tbsp Feta cheese
1 Tbsp Balsamic vinegar
Directions:
Slice tomatoes in half and place in a small bowl.  Top with 2 Tbsp Feta cheese and drizzle with 1 Tbsp Balsamic vinegar.  Dig in!
For a 200 calories snack, I like to have these with a side of whole wheat crackers like Triscuits or Wheat Thins.
Nutrition info for the mix without crackers:  73 calories, 8 gm carbs (6 gm sugar, 1 gm fiber), 4 gm fat (2 gm sat), 4 gm protein, 169 mg sodium, 171 mg potassium, 8% DV calcium
With 6 woven wheat crackers: 193 calories, 28 gm carbs (6 gm sugar, 4 gm fiber), 8 gm fat (2 gm sat, 2 gm poly, 1 gm mono), 7 gm protein, 329 mg sodium, 286 mg potassium, 8% DV calcium, 10% DV Iron