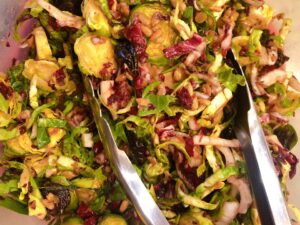 Prep: 20 minutes
Serves: 8 (1 cup each)
Ingredients
4 cups thinly sliced Brussels sprouts
2 cups shredded radicchio
2 heads Belgian endive, shredded
Fine sea salt, to taste (optional)
Ground black pepper, to taste
2 Tbsp. tart cherry juice
2 tsp. Dijon mustard
2 tsp. honey
¼ cup extra-virgin olive oil
½ cup honey-roasted sunflower seeds
½ cup pistachios, toasted
¼ cup dried cherries
Instructions
In a large bow, combine Brussels sprouts, radicchio, and Belgian endive. Season to taste with salt and pepper.
In a small bowl, whisk together cherry juice, mustard, and honey. While whisking, slowly pour in olive oil. Drizzle dressing over slaw; toss to coat.
Transfer slaw to a serving bowl. Top with sunflower seed, pistachios, and dried cherries.
Nutrition information (per serving): 237 calories, 18 gms fat, 2 gms saturated fat, 106 mg sodium, 14 gms carbohydrates, 4 gms fiber, 5 gms sugar, 7 gms protein
Daily values: 15% vitamin A, 66% vitamin C, 4% calcium, 9% iron
This salad tastes better with time, which makes it great for entertaining. It can be made well in advance of the arrival of your company making dinner prep that much easier.