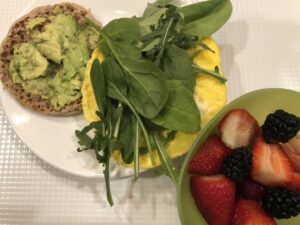 Toast one whole wheat English muffin.
Meanwhile, spray a small microwave bowl with cooking spray.  Crack an egg into the bowl, stir it, and add 1-2 tsp water.  Microwave the egg for 1  minute, covered.
Top the toast muffin with the egg, spinach and arugula and ¼ of a medium sized avocado.  Serve with ½ cup fresh berries on the side.
Nutrition info for sandwich with berries:  320 calories, 40 gm carbs (9 gm sugar, 10 gm fiber), 12 gm fat (2 gm sat fat, 4 gm mono, 1 gm poly), 16 gm protein, 305 mg sodium, 184 mg potassium, 174% DV Vit A, 64% DV Vit C, 27% DV iron.