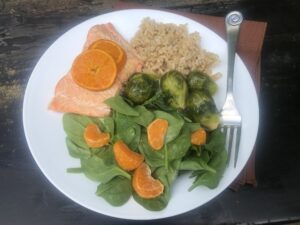 Serves: 4
Prep time: 10 minutes
Total time: 25 minutes
Ingredients:
1 pound fresh salmon fillet, or if frozen, thawed
1/3 cup orange juice
1/3 cup maple syrup
2 Tbsp bourbon
Salt and pepper
Orange slices
Chopped fresh parsley, for garnish (optional)
Directions:
 Preheat oven to 425 degrees F.  Line a large baking sheet with parchment paper.  Pat salmon dry.  Place, skin side down, in pan.
Combine orange juice, maple syrup, and bourbon in a small saucepan.  Gently boil 5 to 8 minutes or until slightly thickened.  Brush salmon with half the glaze.  Season with salt and pepper.  Top with orange slices.
Bake for 8 to 12 minutes or until salmon flakes with a fork (145 degrees F).  Brush with remaining glaze.  Garnish with parsley and serve.
Nutrition information per serving: 330 calories, 15 gms fat (3.5 gms sat fat, 60 mg cholesterol), 70 mg sodium, 20 gms carbs (0 gms fiber, 19 gms sugar), 23 gms protein, 60% DV Vitamin D, 4% DV calcium, 6% DV iron, 10% DV potassium.
For a balanced meal, serve with 1/2 cup brown rice, leafy greens, Brussels Sprouts or broccoli, and a light citrus vinaigrette.