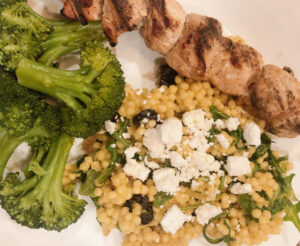 Do not let the long ingredient list intimidate you.  Once the garam masala spice mix is made, this recipe makes a fancy weekend dinner with minimal work.  My family loved it, and I loved the gourmet simplicity.
Hands on time: 25 min
Total time: 90 minutes
Ingredients:
1 pound pork tenderloin, fat trimmed and cut into 1-inch cubes
1 shallot, peeled and chopped
2 cloves garlic, peeled and halved
¼ cup lime juice, divided
1 tsp. garam masala (recipe below)
1 tsp. chili powder
1 ½ tsp. ground turmeric, divided
1 tsp. fine sea salt, divided
1 cup low-sodium vegetable or chicken stock
3 tsp olive oil, divided
1 cup couscous
2 shallots, thinly sliced
2 Tbsp. cashews
¼ cup dried tart cherries
1 1-inch piece of fresh ginger, peeled and julienned
1 cup packed arugula leaves
1/3 cup crumbled feta
Directions:
Place pork in a bowl.  In a small food processor, pulse 1 shallot, garlic, 2 Tbsp lime juice, garam masala, chili powder, ½ tsp ground turmeric, ½ tsp sea salt.  Pour over pork and toss to coat.  Chill, covered, 1 hour.
Thread pork onto 8 bamboo skewers.  Grill over medium heat for 4-6 minutes, turning once.
Meanwhile, in a medium saucepan, bring stock to a boil with remaining salt and 1 tsp olive oil.  Add coucous and remove from heat.  Cover and let stand 8 to 10 minutes.  Once tender, fluff with a fork.
In a medium saucepan heat remaining 2 tsp olive oil over medium high heat.  Add sliced shallots; cook a stir 3-4 minutes until light brown.  Add cashews, cherries, ginger, and remaining turmeric.  Cook 2-3 minutes more or until cashews are golden brown and lightly seared.
In a large mixing bowl, combine cooked couscous and shallot mixture.  Fold in arugula and feta.  Add remaining lime juice.  Transfer to a platter and top with pork on skewers.  Serve with lime wedges.  Serves 4.
Nutrition Information (1 serving):  475 calories, 13 gms of fat, 90 mg cholesterol, 1060 mg sodium, 53 gms carbs, 4 gm fiber, 10 gms sugar, 34 gms protein
Recipe for Garam Masala spice mix:
Heat a small dry skillet over medium-high heat.  Reduce heat and add:
2 Tbsp. each cumin seeds
2 Tbsp. coriander seeds
1 Tbsp. black peppercorns
2 dried bay leaves
One 2-inch cinnamon stick
12 whole cloves
1 tsp. each whole black cardamom pods and whole green cardamom pods
Toast 30-45 seconds or until the spices become fragrant, shaking the pan.  Transfer toasted spices to a mortar and pestle or spice grinder.  Add 1 tsp. freshly grated nutmeg and ½ tsp ground mace.  Grind to a fine powder.  Store in an airtight container in a cool dark place up to 6 months.