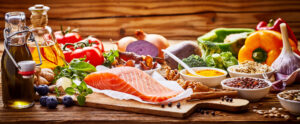 Build an optimal diet routine that supports day-to-day training.
Define the health functions and sources of antioxidants, phytochemicals, and omega-3 fatty acids.
Make a "super" meal plan that fits even the busiest athlete's hectic lifestyle.
The optimal (not perfect) diet includes:
Sufficient Calories

This little measure of energy determines your ability to complete a workout, your muscularity, and your weight.
How do you estimate your calories?

Eating Frequently

Breakfast should equal about 20-25% of your total daily calories along with some whole grain and 8 – 16 grams of protein.
Eat every 2-3 hours for high energy levels and to be ready for your next workout.
Time sugary food and drinks, protein, fat, and fiber carefully.
90 mins – 2 hrs before exercise stick to high carb, low fat foods.

Thinking Simple!

Start with basic food groups: fruits, veggies, whole grains, dairy, and meats/eggs/beans.
Look for foods with short ingredient lists.
Follow Niki's 3-2 Rule: Include at least 3 food groups at every meal, 2 groups at every snack.  The following is an example of what your meals and snacks could look like:
Breakfast: Quinoa parfait (hot or cold) with plain low-fat yogurt, dried fruit and/or nuts
Lunch: Whole grain penne pasta w/ crisp steamed broccoli, salmon fillet and drizzle of olive oil
Snack: Red delicious apple sliced w/ peanut butter
Dinner: Black beans, brown rice, canned petite diced tomatoes w/ chipotle spice in a whole grain tortilla
Dessert: Blueberry Walnut Smoothie (1/4  cup plain non-fat yogurt, ½ cup milk, 1 frozen banana, ½ cup berries, 2 tbsp chopped walnuts, 1 cup spinach optional)
What are the following nutrients? How do I plan them in?
Phytochemicals and Antioxidants – Compounds in plant foods that protect our body in 4 major ways:

Act as anti-inflammatory agents decreasing our risk of chronic disease.
Antioxidants neutralize free radicals, or toxic by-products, that lead to disease development and aging.
Enhance immune function.
Function as natural detoxifying agents.
Best sources:  Fruits, vegetables, whole grains, and fortified margarines (plant sterols and stanols)

Omega-3 Fatty Acids – A healthy fat that acts as an anti-inflammatory improving cardiovascular and mental health.

Best sources: Salmon, Omega-3 eggs, walnuts, flax seed, chia seeds, canola oil
Recommended intake: 500-1000 mg per day through supplemental, animal, or plant forms.
MEAL MAKEOVER!   
| | |
| --- | --- |
| Before…Good. |  After…GREAT! |
| Pre-workout: Banana, water, coffee | Pre-workout:  Banana, water, coffee |
| Post-workout:  1 cup oatmeal with milk, brown sugar, coffee | Post-workout:  1 cup oatmeal w/ milk, cinnamon, 2 Tbsp chopped walnuts, 1/3 cup blueberries, coffee, water |
| | |
| Snack:  Nutri-Grain™ Cereal bar with 8 oz apple juice |  Snack: Carrots, broccoli, red pepper strips w/ garlic hummus, Green tea |
| | |
| Lunch: Iceberg lettuce salad w/ 3 oz chicken breast, raw veggies, and light ranch dressing, croutons | Lunch: Baby kale salad w/ 3 oz salmon, raw veggies, olive oil and balsamic vinaigrette, 1 Tbsp chia seeds |
| | |
| Pre-workout:  Nature Valley Granola bar, water or sports drink | Pre-workout: Nature Valley Granola bar, water or sports drink |
| Afternoon workout | Afternoon Workout |
| Post-workout:  16 oz  LF Chocolate milk | Post-workout: 8 oz low-fat milk, 2 Tbsp dried cherries, 20 almonds |
| Dinner:  Regular Spaghetti w/ marinara sauce, canned green beans, low-fat milk | Dinner: Whole grain pasta w/ black beans, diced tomatoes and olive oil, steamed asparagus, low-fat milk |
| Snack:  Low-fat Ice cream | Snack:  Low-fat Greek yogurt w/ fruit |