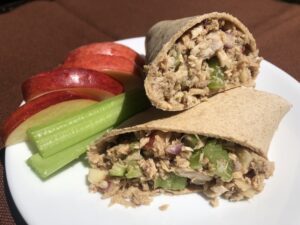 Serves 1
 Ingredients:
5 oz can wild salmon
¼ cup chopped apple
¼ cup chopped celery
2 Tbsp chopped red onion
2 tsp balsamic vinegar
1 tsp olive oil
1 tsp honey
1 whole wheat flour tortilla
Black pepper and salt, to taste
Directions:
Combine balsamic vinegar, olive oil, and honey.  Mix salmon, apple, celery, and onion with dressing.  Fill whole wheat tortilla with salad.  Season with pepper and salt to taste.
Nutrition Information (1 wrap):  395 calories, 42.5 gms carbs (4 gms fiber, 16 gms sugar), 12 gms fat, 32 gms protein. Sodium 837 mgs, 11% calcium