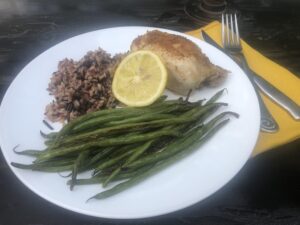 Serves: 8
Serving size: 4 oz chicken
Prep: 15 minutes
Cooking time: 40 minutes
Ingredients:
Rub
¼ cup fennel seeds
1 Tbsp coriander seeds
1 tsp black peppercorns
1 tsp ancho chili powder
1 tsp ground cinnamon
½ tsp kosher salt
I make a double batch of this ahead of time and store it for a much faster dinner prep.  I also go to a spice shop and hit the bulk bins to buy just what I need, since these are not spices I use all the time.
Chicken
2 lb boneless, skinless chicken thighs
2 Tbsp olive oil
2 lemons, halved
Directions:
Preheat oven to 400 degrees F. Add the fennel seeds, coriander seeds, and peppercorns to a small skillet and toast over medium-high heat for 1 to 2 minutes, until fragrant.  Allow the spices to cool, then grind them to a fine poweder in a spice or coffee grinder.  Add the spice mixture to a small bowl.  Mix in the chilli powder, cinnamon and salt.
Rub the chicken thighs with the spice mixture.  Add the thighs to a large baking dish.  Drizzle the olive oil over the chicken.  Roast the chicken for 30 minutes.  Add the lemons and roast for 10 minutes until the chicken is cooked through and the lemons are lightly browned.  With tongs, squeeze the lemons over the chicken and serve.
Nutrition information (per serving):  180 calories, 10 gm Total fat (2.2 gms saturated); 105 mg cholesterol, 190 mg sodium, 290 mg potassium, 3 gm carb, 19 gm protein, 185 mg phosphorous