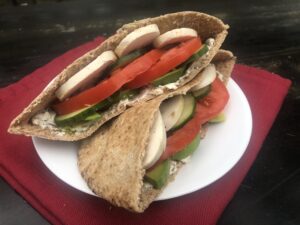 Ingredients:
Servings: 4 or 2 halves
1 8 oz carton of fat free cream cheese spread
¼ cup unsalted sunflower kernels
1 tsp salt-free seasoning blend or Mrs. Dash
4 whole wheat pita breads, halved
1 medium tomato, thinly sliced
1 medium cucumber, thinly sliced
1 cup sliced fresh mushrooms
1 ripe avocado, peeled and sliced
Directions:
In a bowl, combine the cream cheese, sunflower kernels and seasoned salt; spread about 2 Tbsp on the inside of each pita half.  Layer with tomato, cucumber, mushrooms and avocado.
Nutrition info (per 2 halves): 378 calories, 48 gm carbs (9 gm fiber), 15 gm fat, 18 gm protein, 660 mg sodium