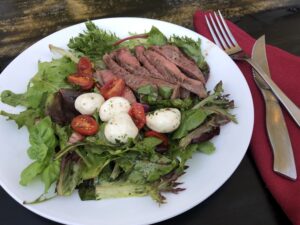 Makes 1 serving
Ingredients:
4 cups Spring mix
8 grape tomatoes, halved
2 Tbsp red onion, chopped
4-6 leaves fresh basil, sliced in fine ribbons
3 oz sirloin steak
1 oz mozzarella cheese pearls
2 Tbsp balsamic vinegar
1 Tbsp olive oil
Dash of salt and pepper
Directions:
Start up the grill and set it to medium heat.  Mix Spring mix, tomatoes, onions, and basil.   Combine vinegar, oil, salt, and pepper; pour dressing over salad mix and toss.  Grill steak for 3-4 minutes per side until cooked to desired temperature.  Let steak rest off the grill for a few minutes to let juices settle.  Cut steak into thin slices.  Layer on top of salad, add mozzarella pearls, and dig in!
Nutrition information:  400 calories, 15 mg carbs (7 gm sugar, 3 gm fiber), 23 gm Total fat (6 gm sat, 12 gm mono, 2 gm poly), 35 gm protein, 83 mg cholesterol, 434 mg sodium, 541 mg potassium, 302% Vit A, 128% Vit C, 35% calcium, 48% iron.