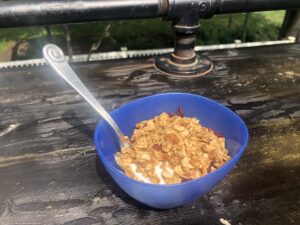 Servings: 6 – 1/3 cup portions
Ingredients:
4 Tbsp honey
2 Tbsp canola oil
½ tsp ground cinnamon
2 cups rolled oats
Non-stick cooking spray
Optional ingredients:
4 Tbsp sliced or chopped almonds
½ cup dried fruit (raisins, cranberries, apricots, dates, or prunes)
Directions:
Preheat oven to 350 degrees.  In a large bowl combine honey, oil, and cinnamon. Whisk with a fork.  Add oats and almonds. Stir until well coated with honey mixture.  Coat a baking sheet with non-stick cooking spray. Spread evenly onto sheet.  Bake until lightly browned about 10-15 minutes. Stir every 5 minutes to cook evenly.  Watch closely as not to burn.  Remove from oven and let cool completely before stirring in dried fruit.
Nutrition info per 1/3 cup serving:  159 calories, 5 gm fat ( .5 gm saturated fat, 0 gm cholesterol), 1.2 mg sodium, 101 mg potassium, 25 gm carbs ( 9gm sugar, 2 gm fiber), 3 gm protein
For a 200 calorie snack, top one 5-ounce low-fat Greek yogurt with 1/4 cup granola and enjoy!