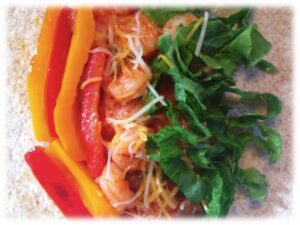 Ingredients:
¾ cup chunky-style salsa
½ cup chopped green bell pepper
¾  lb uncooked, deveined peeled medium shrimp, thawed if frozen, tail shells removed
1 box taco shells or 1 package whole wheat flour tortillas
¾ cup shredded Mexican cheese blend (3 oz)
Optional:  Sweet red and/ or pepper, cut in strips
Directions:
In 10-inch nonstick skillet, heat salsa and bell pepper over medium-high heat, stirring frequently, until warm.  Stir in shrimp.  Cook 3 to 4 minutes, turning shrimp occasionally until shrimp are pink.  Fill each taco shell with about ¼ cup shrimp mixture.  Top with cheese, lettuce and taco sauce.  Serve with refried beans or fruit.
*In a separate skillet, saute red or yellow pepper strips in ½ Tbsp olive oil until tender, about 5-7 minutes.
Nutrition info per taco (makes 8):  190 calories, 16 gms carbs, 13 gms protein, 9 gms fat, 400 mg sodium, 1 gm fiber