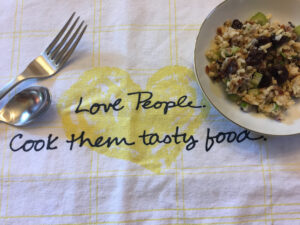 Farro is a neutral quick-cooking grain that resembles barley. This salad can be made with brown rice, quinoa or whatever whole grain mixes you have on hand. The salad calls for about 4 cups cooked grains. For this picture, I used a brown rice quinoa mix.
Total prep: 25 minutes
Serves: 8 (2/3 cup serving)
Ingredients:
5 cups water
1 ½ cups uncooked farro
1 ¾ cups dried cherries
2/3 cup diced celery
½ cup coarsely chopped walnuts, toasted
¼ cup packed fresh flat-leaf parsley leaves
2 Tbsp fresh lemon juice
1 Tbsp honey
*¼ teaspoon salt (optional)
¼ teaspoon freshly ground pepper
3 Tbsp extra-virgin olive oil
Directions:
Bring 5 -cups water to a boil in a large saucepan. Add farro to boiling water; cook 15 minutes or until al dente. Drain; cool at room temperature 15 minutes. Combine farro, cherries, celery, walnuts and parsley in a large bowl.
Combine lemon juice, mustard, honey, and pepper; whisk together. Gradually add oil, stirring constantly with a whisk. Pour dressing over farro mixture and mix well. This salad is delicious warm or cold.
Nutrition info per serving: 256 calories, 10.6 gms fat (1.2 gms sat, 4.4 gms mono, 3.9 gms poly), 7 gms protein, 37 gms carbs, 5 gms fiber, 0 mg cholesterol, 2 mg iron, 201 mgs sodium, 34 mg calcium
*This recipe would contain very little sodium by omitting the ¼ teaspoon salt making it a healthy option for a low sodium diet.