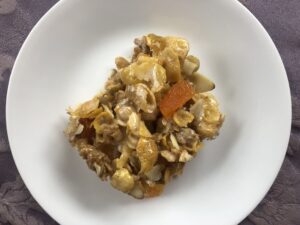 Prep time: 10 minutes + 20-30 minutes to cool
Servings: 18 amazing bars!
Ingredients:
¼ cup honey
2 Tbsp margarine
1 pkg. (10 oz) Marshmallows (about 36 marshmallows)
6 cups Honey Bunches of Oat Cereal
1 cup dried apricots, chopped
1 cup almonds, sliced
½ cup sunflower kernels, unsalted
Directions:
Microwave honey and margarine in large microwaveable bowl on high 1 minute; stir until well blended.  Add marshmallows; toss to coat.  Microwave 1 ½ minutes or until marshmallows are puffed; stir until well blended.
Add remaining ingredients; mix well.
Press cereal mixture firmly into greased 13×9 inch pan.  Cool.  Cut into 18 bars.
Substitute:  Try dried cranberries or raisins instead of the apricots.