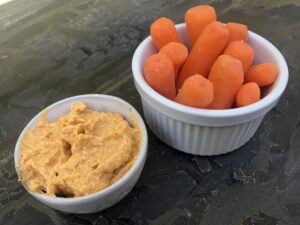 From "Run Fast. Eat Slow. Nourishing Recipes for Athletes" by Shalane Flanagan and Elyse Kopecky.
 Servings: 7 servings of ¼ cup
Ingredients:
1 can Garbanzo beans, rinsed and drained
1 chipotle pepper in adobo sauce
2 Tbsp tahini
3 Tbsp fresh lemon juice (1 to 2 lemons)
¼ cup extra-virgin olive oil
½ tsp fine sea salt
Directions:
In a food processor or high-speed blender, combine the beans, chipotle pepper, tahini, lemon juice oil, and salt.  Blend on high until smooth, stopping as needed to scrape down the sides and underneath the blade with a rubber spatula.  If too thick, thin by adding 1 Tbsp water at a time.
Transfer to an airtight container.  Chill in the fridge until ready to serve.  Serve with carrots, tortilla chips, or pita chips.
Nutrition info per ¼ cup serving:  153 calories, 11 gm carbs (1 gm sugar, 3 gm fiber), 11 gm fat (1 gm sat, 7 gm mono, 2 gm poly), 4 gm protein, 348 mg sodium, 156 mg potassium.
Tips:
Freeze leftover chipotle peppers.  Place them about 3 inches apart on a large piece of wax or parchment paper.  Roll up the paper so each pepper is separated from the next.  Place the wrapped peppers in a freezer bag.
This hummus has just enough heat to fire up your day!  Use this hummus in a vegetable wrap or sandwich, too.