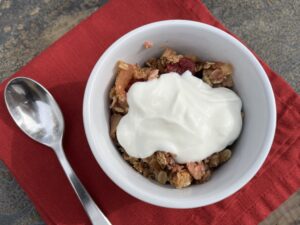 The whole grain topping on this cobbler is so much heartier and filling than your typical cobbler, and I love to eat this for breakfast, a comforting snack, or sweetly satisfying dessert…or maybe all three in one day!
Serves: 18
Prep time: 20 minutes
Cooking time: 45 minutes
Filling Ingredients:
6 medium apples or pears, peeled, cored, and sliced
1 cup fresh or frozen cranberries or pitted cherries
1 tsp ground cinnamon
1 tsp grated fresh ginger
1 tsp freshly grated orange zest
Topping Ingredients:
1 cup almond flour
2 cups rolled oats
½ cup whole wheat flour
¼ cup unsalted, toasted pepitas
¼ cup unsalted sliced almonds
1 tsp ground cinnamon
¼ tsp fine sea salt
2 Tbsp melted coconut oil or canola oil
1 Tbsp extra-virgin olive oil
1/3 cup pure maple syrup
Directions:
Preheat the oven to 350 degrees F.  Make the filling by mixing the fruit, cinnamon, ginger, and orange zest in a medium bowl.  Spread the filling in the bottom of a 9 x 13-inch baking dish.
Make the topping by stirring together the almond flour, oats, wheat flour, pepitas (unshelled pumpkin seeds), almonds, cinnamon and salt in another medium sized bowl.  Drizzle the coconut oil, olive oil, and maple syrup and mix until evenly combined.
Crumble the topping over the filling and bake for 40 minutes, or until the topping is brown and the fruit is bubbling.  Remove cobbler from the oven and set aside to cool for 10 minutes before serving.
Nutrition info per ¾ cup serving without the yogurt:  190 calories, 26 gm carbs (5 gm fiber, 10 gm sugar), 9 gm Total fat (2 gm sat), 5 gm protein, 35 mg sodium, 220 mg potassium, 135 mg phosphorous.