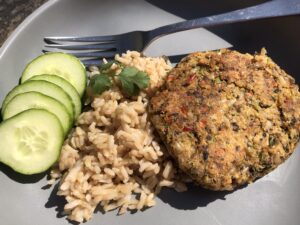 Total prep time: 25 minutes
Servings: 4 sandwiches
Ingredients:
½ cup fresh broccoli florets
4 medium sized fresh mushrooms
½ small red bell pepper, cut into large pieces
½ cup cooked brown rice (use a ready rice pouch to save time)
1 15 oz can garbanzo beans, drained, rinsed
1 egg
1 clove garlic
½ tsp seasoned salt or Mrs. Dash
1 tsp dried chopped onion
1/3 cup seasoned dry bread crumbs
3 Tbsp avocado oil
4 smaller whole wheat buns
Condiments:  Top with vegetables like lettuce, tomato, cucumber slices, red onion, and light mayonnaise, if desired.
Directions:
Pulse broccoli, mushrooms, and red pepper in a food processor until finely chopped (do not puree).  Remove vegetables from the processor to a medium bowl; stir in brown rice.
Add beans, egg, garlic and seasoned salt to the food processor and process until smooth.  Stir bean mixture, dried onion, and bread crumbs into vegetable mixture.  Shape into 4 patties about ½ inch thick.
In a non-stick skillet, heat oil over medium heat.  Cook patties in oil 8-10 minutes, turning once until brown and crisp.  Serve in buns with toppings.
Nutrition information for one patty with the bun.  Does not include condiments: 460 calories, 61 gms carbs (9 gm fiber), 16 gm fat (2.5 gm sat), 17 gm protein, 55 mg cholesterol, 540 mg sodium
To lighten this meal to around 400 calories, eat the burger open faced with an extra serving of raw or steamed vegetables on the side.