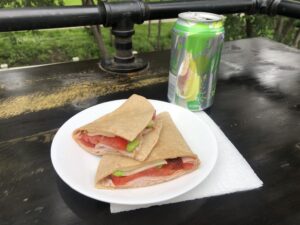 Makes 1 quesadilla
Ingredients:
8-inch whole wheat tortilla
3 ounces sliced roasted turkey
5 slices tomato
1/3 cup edamame
¼ cup shredded Swiss cheese
2 Tbsp salsa
Directions:
Layer turkey, tomato, edamame, cheese and salsa on half of a whole wheat tortilla.  Fold over and warm in the microwave about 30 – 45 seconds.
Nutrition info (1 quesadilla):  415 calories, 35 gms carbs (5 gms fiber, 4 gms sugar), 31 gms protein, 14 gms fat, 1224 mgs sodium, 20% Vitamin C, 27% Vitamin A, 32% calcium
This is a great way to use up leftover vegetables and make what I call "something out of nothing".  Mix and match your deli meats and cheese and top it with different vegetables and condiments to make it your own.