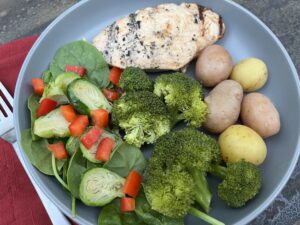 Prep:  10 minutes + 20 minute marinade time
Grill:  10 minutes
Yield:  6 servings
Ingredients:
½ cup lime juice
¼ cup olive oil
4 garlic cloves, minced
2 tsp. Greek seasoning
6 boneless skinless chicken breast halves (6 oz each)
Directions: 
In a large resealable plastic bag, combine the lime juice, oil, garlic and Greek seasoning;  add the chicken.  Seal bag and turn to coat; refrigerate for 20 minutes to 2 hours.
Coat grill rack with cooking spray before starting the grill.  Drain and discard marinade.  Grill chicken, covered over medium heat for 5-8 minutes on each side or until juices run clear.
Nutrition facts (1 marinated chicken breast): 299 calories, 2 gm carbs, 16 g fat (2 gm sat fat, 9 gm MUFA, 3 gm PUFA), 115 mg cholesterol, 746 mg sodium, 455 mg potassium, 36 gm protein, 11% Vit C.
Tip:  Meal, as pictured with full 6 oz breast, is 520 calories.  Make it a balanced 400 calorie meal by eating half a chicken breast and drizzle 2 Tbsp light salad dressing over vegetables and potatoes.
The lime juice in the marinade makes this chicken so tender.  This recipe is a regular at my house for an easy weeknight meal or when I want to impress company.