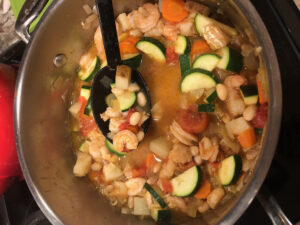 Prep: 20 minutes
Total: 1 Hour
Servings: 6 servings
Ingredients:
2 Tbsp vegetable oil
2 medium carrots, thinly sliced (1 cup)
2 medium stalks celery, sliced (1 cup)
1 large onion, chopped (1 cup)
1 clove garlic, finely chopped
1 can (14.5 oz) stewed tomatoes, undrained
2 cups water
½ Tbsp beef bouillon granules
1 medium potato, cut into 1/2 –inch pieces
1 lb cod or other medium-firm fish fillets, cut into 1-inch pieces
½ lb uncooked medium shrimp, thawed if frozen, peeled, deveined
1 can (15.5 oz) great northern beans, rinsed, drained
1 small zucchini, cut in half lengthwise, then sliced (1 cup)
1 tsp chopped fresh or ¼ tsp dried thyme leaves
½ tsp pepper
Directions:
In 4-quart Dutch oven, heat oil over medium high heat. Cook carrots, celery, onion, and garlic in oil about 5 minutes, stirring frequently, until vegetables are tender. Stir in tomatoes, water, bouillon, and potato. Heat to boiling and reduce heat. Cover and simmer 20 minutes, stirring occasionally.
Stir in cod, shrimp, beans, zucchini, thyme and pepper. Heat to boiling and reduce heat. Cover and simmer 6 to 10 minutes or until fish flakes easily with fork and shrimp are pink. Serve topped with parsley.
Nutrition information (per serving): 290 calories, 6 gms fat (1 gm saturated), 75 mg cholesterol, 740 mgs sodium, 32 gms carbs (7 gms dietary fiber), 26 gms protein