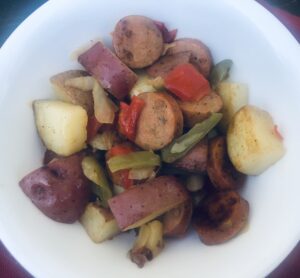 Serves 1
Ingredients:
2 small red potatoes
1 tsp olive oil
1 chicken sausage, sliced
½ sliced yellow, red or green pepper
¼ sliced onion
Hot sauce, optional
Paprika
Directions:
Quarter potatoes and cook in 1 tsp olive oil over medium heat until golden (about 15 minutes).  Add chicken sausage, yellow pepper, and onion.  Saute 5 more minutes.  Top with ¼ tsp hot sauce and a dash of paprika.
Nutrition info (1 serving):  425 calories, 60 gms carbs (6 gms sugar, 7 gms fiber), 12.6 gms fat, 22 gms protein, 523 mgs Na, 18% DV iron, 1378 mg potassium