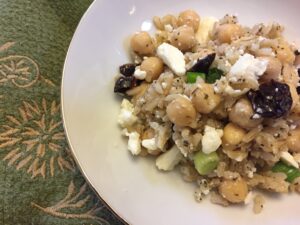 Using the ready cooked brown rice makes this salad a great weeknight summer dinner on the patio and a filling lunch-to-go for work the next day.
Servings: 4 – 1 cup servings
Ingredients:
1 (8.8 ounce) pouch precooked brown rice
¼ cup chopped green onions
¼ cup chopped fresh basil
3 Tbsp extra-virgin olive oil
2 Tbsp white balsamic vinegar
½ tsp salt (optional)
¼ tsp freshly ground black pepper
¼ cup unsweetened dried cherries, soaked in 2 Tbsp boiling water for 10 minutes,
drained and chopped
1 (15 oz) can unsalted chickpeas, rinsed and drained
2 ounces goat cheese, crumbled (about ½ cup)
Directions:
Heat rice according to package directions. Mix rice and the remaining ingredients, except goat cheese, in a medium bowl. Sprinkle with goat cheese. Serve.
Nutrition facts: 367 calories, 12 gms fat (3.8 gms sat), 883 mg sodium, 54 gms carbs, 8 gms fiber, 9 gms sugar, 10 gms protein, 13% DV Vit A, 12% DV calcium, 9% DV iron