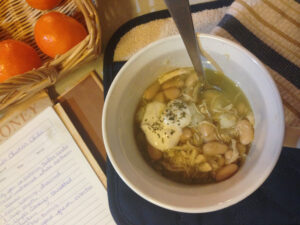 Makes about eight 1 cup servings
Ingredients:
16 oz jar La Victoria or Herdez mild green salsa
2 15 oz cans white Great Northern beans, undrained
1 15 oz can hominy, drained
1 cup low sodium broth
2 cups Carey's shredded chicken
3/4 – 1 Tbsp ground cumin
2-4 Tbsp fresh lime juice
Garnish with 1 Tbsp chopped, fresh cilantro
Directions:
Use a 2 cup bag of Carey's shredded chicken, or dice and cook chicken in a skillet until done.  Add all ingredients, except cilantro, to a large pot or dutch oven.  Cook over medium heat, stirring occasionally until heated through.  Top with cilantro or light sour cream and enjoy!
Nutrition info for 1 cup serving: 209 calories, 23 gm carb (5 gm fiber, 2 gm sugar), 1 gm total fat, 14 gm protein, 461 mg sodium, 382 mg potassium, 15% DV Vitamin C, 13% DV iron