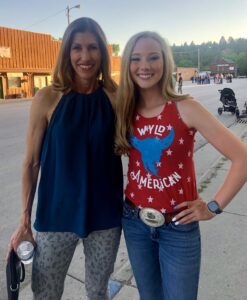 Twenty-five years ago, at the 1996 Wyoming State Track Meet, I wanted to win the 1A 1600 meter run more than anything.  It was my Senior year of high school, and I wanted to graduate with a state title under my belt.  I was so determined to win this race that I ended up setting a personal record of 5 minutes 35 seconds, which was 9 seconds faster than I had ever run the mile before.  In addition, that time broke both the 1A State Mile record, and the long-standing record at my school.  That was much more than I expected to achieve that day, and it is an accomplishment I am still very proud of today.
Flash forward 25 years, and that record was still standing until now.  Hulett High School freshman, Ahnya Moody, smashed my school record this track season with a blazing 5 minutes and 20 seconds at a regular meet.  Unfortunately, she was unable to run under 5:35 at the State meet due to terrible weather that day.  I will hold the state record one more year, but I am pretty confident this talented beauty will knock it out of the ballpark next season if she can just get the right weather conditions.
I returned to Hulett early June for my 25th High School Reunion, and I really wanted to meet Ahnya.  It turns out she had heard I was back in town, because that is how small towns work, and she was eager to meet me, too.  It was such a pleasure to catch up with this accomplished runner who also was the 2021 Hulett Rodeo Queen.  She is a go-getter with a true love for running, and I am excited to see just how fast she will get.
Records set the bar high and give us something to keep striving for.  It is a little sad to see your name come down off the wall, (which Ahnya was so kind to offer to mail to me once it is replaced), but it is more satisfying to know that you gave somebody else something to work for, that they are better because of you, and that they are chasing the same dreams you have.
Go get that State record, Ahnya!