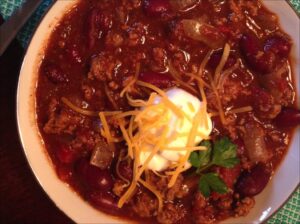 Serves: 4 – 1 cup portions
Prep time: 20 minutes of active prep; 1 hour to simmer
Total time: 1 hour 20 minutes
Ingredients:
1 lb lean 93% ground turkey
1 medium onion, chopped
2 cloves garlic, minced
1 Tbsp Chili powder
1 tsp ground cumin
1 tsp dried oregano
1 tsp cocoa powder
1 15 ounce can diced tomatoes, undrained
1 15 ounce can red kidney beans, undrained
Directions:
Brown turkey in large dutch oven, add onion and garlic while browning. Drain grease.
Add remaining ingredients, except for the beans, stir and bring to a boil. Reduce heat and simmer, covered for one hour. Add beans about 10 minutes before the chili is done simmering. Heat through and serve.
Nutrition info (per 1 cup): 280 calories, 3 gms total fat (2 gms sat fat), 25 gms carbs, 8 gms fiber, 5 gms sugar, 29 gms protein, 448 mg sodium, 23% DV iron
Tip: I like to double this recipe and then serve the leftovers over cooked whole grain spaghetti the next night for a deliciously healthy Cincinnati style Chili. The kids love this and it makes for an easy quick dinner!