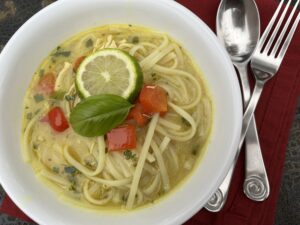 Servings: Six 1 1/3 cup servings
Prep time: 45 minutes if I need to cook the chicken;  Can be prepped in 30 minutes using shrimp or  2 cups of Carey's Shredded Chicken
Ingredients:
1 Tbsp olive oil
1 ½ pounds boneless, skinless chicken breasts, cubed or 1 pound shrimp, thawed, or 3-4 cups shredded chicken.
Pinch of salt and pepper to taste
3 cloves garlic, minced
1 red bell pepper, diced
1 onion, diced
3 Tbsp red curry paste (in Asian section of most grocery stores)
1 Tbsp freshly grated ginger
6 cups low sodium chicken broth
1 can full fat coconut milk (13.5 oz)
4 oz rice noodles
1 Tbsp fish sauce (in Asian section of most grocery stores)
2 tsp brown sugar
3 green onions, thinly sliced
½ cup chopped fresh cilantro leaves
¼ cup chopped fresh basil leaves
2 Tbsp freshly squeezed lime juice
Directions:
Heat olive oil in a large stock pot over medium heat.  Season chicken with salt and pepper. Cook chicken until just done.  Set the cooked chicken aside.  If using Carey's chicken, add this at the end when the soup is combined and ready to simmer.
Add garlic, bell pepper, and onion.  Cook and stir occasionally until tender about 3-4 minutes.
Stir in red curry paste and ginger and cook about 1 minute until fragrant.
Stir in chicken broth and coconut milk.
Stir in chicken (add Carey's chicken here).  Bring to a boil, reduce heat and stir occasionally about 10 minutes.
Stir in rice noodles, fish sauce, and brown sugar, and cook about 5 minutes until noodles are tender.  Remove from heat; stir in green onions, cilantro, basil, and lime juice.  Serve immediately.
Nutrition Info for one serving:  439 calories, 25 gm carbs (1 gm fiber, 6 gm sugar), 18 gm fat (11 gm sat, 4 gm mono, 2 gm poly), 39 gm protein, 109 mg cholesterol, 1657 mg sodium, 769 mg potassium, 31% DV Vit A, 55% DV Vit C, 8% Calcium, ad 8% iron.
Nutrition tips: 
To reduce saturated fat, use a low-fat coconut milk instead of full fat.
To reduce sodium, look for a sodium free chicken broth (they do exist!), make your own natural broth, or use low sodium bouillon cubes and use 3-4 cubes instead