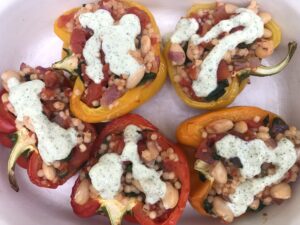 Preparing a meatless entree at least one day a week is a great way to include more vegetables, saves money, and makes meal prep easy.  Stuffed peppers look more complicated than they are.  Think of them as a 3 step process: First, start roasting the peppers in the oven.  Second, dice and prep the filling while the peppers are roasting.  Third, fill the peppers and bake a few minutes longer to heat them through.
Servings: 3 (2 halves each)
Ingredients:
3 red, yellow or orange peppers
1 tsp and 1 Tbsp olive oil, divided
½ red onion, diced (about 1 cup)
2 cloves garlic, minced
1 cup couscous, cooked
½ package frozen spinach, thawed and drained
1 15 oz can cannellini beans, drained and rinsed
1 15 oz can diced tomatoes (or fire roasted diced tomatoes)
½ tsp dried oregano
½ tsp dried thyme
Salt and pepper (optional)
Garnish with chopped fresh parsley and Cucumber Tzatziki Sauce.  Find an easy recipe on my website under "Dips".
Directions:
Preheat oven to 400 degrees F.  Prep couscous according to directions on the container.
Next, slice peppers in half top to bottom and remove the seeds.  Lightly brush peppers with 1 tsp olive oil and roast in a glass baking dish for 20-25 minutes.
While the peppers are roasting, add the remaining 1 Tbsp oil to a pan and heat over medium-low heat.  When hot, add the red onion and cook until tender about 3 minutes.  Add the garlic and cook another 1-2 minutes.  Stir in the prepared couscous, spinach, white beans, diced tomatoes, oregano and thyme, and mix well.  Season with salt and pepper to taste and remove from heat.
Spoon the filling into each of the 6 pepper halves.  Bake the peppers for another 15-20 minutes, or until heated through.  Remove from the oven, sprinkle with parsley and drizzle with Cucumber Tzatziki sauce, if desired.
Nutrition info per 1 pepper half:  170 calories, 27 gm carbs (6 gm fiber, 5 gm sugar), 3.5 gm fat (2.2 gm mono, .5 gm sat), 8 gm protein, 275 mg sodium, 576 mg potassium, 36% DV Calcium, 11% iron, 187% DV Vitamin A, 175% DV Vitamin C.