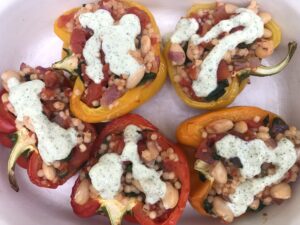 Find the recipe for these stuffed peppers under Weekend meals!
Servings: 4
Ingredients:
1 cup low-fat Greek yogurt, plain or 1 cup silken tofu
1 cup cucumber, peeled and diced
2 Tbsp dill, fresh or 1 tsp dried dill
2 cloves garlic
1 Tbsp lemon juice + 1 tsp lemon zest
1/8 tsp pepper
Salt to taste (optional)
Directions:
Stir all ingredients together in a small bowl.  Adjust the salt, pepper, and lemon juice to taste.  Serve immediately or store in an air-tight container in the fridge for up to 3 days.
For the dairy free version, replace yogurt with 1 cup silken tofu.  Blend with all other ingredients in a blender.
Nutrition info per serving of regular recipe:  102 calories, 2.6 gm fat (1.5 gm sat), 9 gm carb (3.5 gm sugar), 11 gm protein, 181 mg sodium, 28.7 mg potassium, 12.5% Vit A, 28.5% Vit C, 28.5% DV calcium