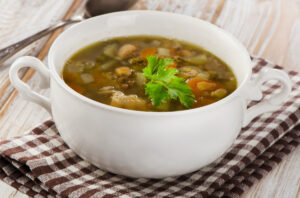 Total: 6 hours
Servings: 6
Ingredients:
4 medium carrots, peeled and slices (2 cups)
1 medium zucchini, chopped (2 cups)
1 medium onion, chopped (1/2 cup)
1 cup dried lentils (8 oz), sorted, rinsed
4 ½ cups low-sodium chicken broth
½ teaspoon salt
¼ teaspoon pepper
1 lb boneless, skinless chicken thighs, trimmed of excess fat
1 can (28 oz) diced tomatoes, undrained
1 cup sliced fresh mushrooms (3 oz)
¼ cup chopped fresh basil or 1 Tbsp dried
Shredded parmesan cheese, if desired
Directions:
Spray 3-6 quart slow cooker with cooking spray.  In slow cooker, mix carrots, zucchini, onion, lentils, broth, salt and pepper; top with chicken.  Cover; cook on low for 5-6 hours.
Remove chicken from slow cooker to cutting board.  Use 2 forks to pull chicken into shreds.  Return chicken to slow cooker.  Stir in tomatoes and mushrooms.  Cover; cook about 15 minutes or until heated through.  Sprinkle with basil.  Serve with cheese.
Nutrition information (per serving):  280 calories, 4 gm Total fat (saturated 1 gm), 30 mg cholesterol; 840 mg sodium; 35 gm carbs (10 gms fiber); 25 gm protein
Tips:  This recipe freezes really well.  I like to double the recipe (which almost overflows my large crockpot!) and freeze the leftovers for an easy meal later.