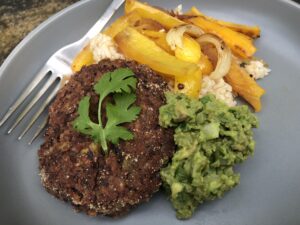 Black bean burgers never look as good as they taste, so I dare you to give this one a try!
Prep: 10 minutes
Cook time: 15 minutes
Serves:  6
Ingredients:
1 15 oz can black beans, undrained
1 4.5 oz can chopped green chiles, undrained
1 ½  cup unseasoned dry bread crumbs
½ – 1 Tbsp Chili powder, to taste
2-3 tsp ground cumin
1 egg, beaten
¼ cup yellow cornmeal
2 Tbsp vegetable oil
6 Whole wheat hamburger buns
1 ¼ cup shredded lettuce
Salsa
2 Tbsp guacamole
Cilantro, as garnish if desired
Directions:
In a food processor or blender, pulse beans until slightly mashed.  Remove beans from food processor to a medium sized bowl.  Stir in chiles, breadcrumbs, chili powder, cumin, and egg.
The liquid from the beans and chiles results in more of a bean batter than a crumbly mix.
Heat 1 Tbsp oil over medium heat.  Use 1/3 cup scoop and pour the bean batter into 4-inch patties over hot oil.  Flip the burgers after about 4 minutes or once patties start to look a little dry around the edges.  Cook through another 4-6 minutes.  Sprinkle with corn meal.  Add last Tbsp of oil to the skillet to cook remaining burgers.
Serve on whole wheat buns with a dollop of guacamole and shredded lettuce, or serve over 1 cup brown rice with sautéed vegetables and 2 Tbsp guacamole. (as pictured).  You could add 2-3 Tbsp of shredded cheese on top  or  serve cucumber slices or other raw vegetables on the side.
Nutrition info as 1 burger with bun and listed condiments: 341 calories, 54 gm carbs (4.5 gm sugar, 8 gm fiber), 10 gm fat (4 gm poly, 1 gm mono, 1 gm sat), 12 gm protein, 672 mg sodium, 11% DV sodium, 271 mg potassium, 11% Vitamin C.
The meal as pictured provides about 440 calories.