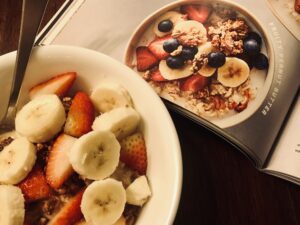 Prep: 5 minutes then set overnight
Servings: 1
Ingredients:
½ cup low-fat milk or unsweetened milk alternative
½ Tbsp brown sugar
½ tsp vanilla
2 Tbsp natural creamy peanut butter
½ cup regular rolled oats
½ banana, sliced
¼ cup fresh berries (strawberries, raspberries, or blueberries)
1-2 Tbsp granola (I like Kashi's Go Love Chocolate Crunch)
Directions:
Stir together milk, brown sugar, and vanilla in a half-pint canning jar.  Add peanut butter and stir to swirl.  Add oats and stir to moisten.  Put on lid; chill overnight.
To serve, top oats with banana, berries and granola!
Nutrition Info (per one serving):  523 calories, 21 gms fat (3.6 gm sat, 1.1 poly, 1 gm mono); 69 gms carbs (24 gms natural sugar, 4 gm added sugar, 9.3 gm fiber), 21 gms protein, 66 mg sodium, 296 mg potassium, 28.5% DV Vit C, 14.3% DV Iron, 28.1% DV calcium