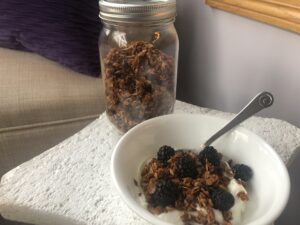 Makes 8 cups (16 servings)
Ingredients:
3 cups rolled oats
1 cup finely shredded unsweetened dried coconut
½ cup shelled pumpkin seeds
½ cup sunflower seeds
½ cup raisins or chopped dried fruit
2 tsp ground ginger
2 tsp ground cinnamon
½ tsp fine sea salt (optional)
1/3 cup virgin coconut oil
¼ cup honey
¼ cup molasses
Directions:
Preheat oven to 275 degrees F.  Line a rimmed baking sheet with parchment paper.  In a large mixing bowl, combine the oats, pumpkin seeds, sunflower seeds, dried fruit, ginger, cinnamon, and salt.  In a microwave-safe bowl, stir together the coconut oil, honey and molasses and microwave until slightly melted.  Pour over the dry ingredients and stir until evenly combined.
Spread out in a thick layer on the baking sheet.  Bake, stirring every 15 minutes, until lightly browned for 45 minutes.  Granola will still feel moist, but will become crunchy once it cools completely.  Store in an airtight container at room temperature.  Granola will stay fresh for 1-2 weeks.
Nutrition Info (per 1/2 cup serving): 239 calories, 25 gm carbs (10 gm sugar, 3 gm fiber), 14 gm fat (8 gm sat, 1 gm poly, 1 gm mono), 79 mg sodium, 11% DV iron
For a healthy 200 calorie snack top 2/3 cup low-fat plain yogurt with 1/4 cup granola!  
Nutrition info for snack: 200 calories, 22 gm carbs (14 gm sugar, 2 gm fiber), 8 gm fat (5 gm sat fat, 1 gm poly, 1 gm mono), 9 gm protein, 139 mg sodium, 362 mg potassium, 28% DV calcium