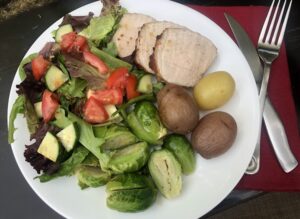 Makes 8 4 oz servings
Ingredients:
3 Tbsp olive oil
3 cloves garlic, mashed or finely minced
¾ tsp gound cinnamon
½ tsp ground nutmeg
½ tsp ground ginger
¼ tsp ground allspice
1 ¼ tsp salt (optional)
1 Tbsp maple syrup
2 – 1 pound pork tenderloins
Directions:
Heat oven to 425 degrees.  In a large bowl, combine the 3 Tbsp olive oil, garlic, cinnamon, nutmeg, ginger, allspice, salt and maple syrup.  Add the tenderloins to the bowl and toss them with the spice mix to coat.
Add just enough oil to just coat the surface of a large sauté pan.  Sear the tenderloins on all sides over medium-high heat.  When the tenderloins are seared, transfer to a foil lined baking pan.
Place in the oven and roast until a thermometer inserted in the center of the tenderloins reaches 140 degrees, 20 to 25 minutes, or to desired doneness.
Remove the pan from the oven and remove tenderloins from the pan to a platter or cutting board to rest about 10 minutes.  Slice the tenderloins and arrange on a platter.
Nutrition info (8 servings):  263 calories, 35 gms protein, 2 gms carbs,  13 gms fat (4 gms sat fat), 83 mgs chol, 1 gm sugar, 533 mgs sodium (less if leave out)