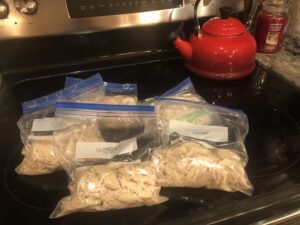 (My friend Carey gave me this recipe, so I have to give her all credit) 
Ingredients:
4 skinless, boneless chicken breast
3 Tbsp grated parmesan cheese
2 tsp salt
2 tsp pepper
2 tsp garlic powder
2 tsp dried basil
Directions:
Preheat the oven to 275 degrees.  In a small bowl, mix 1/3 cup olive oil with 3 Tbsp grated parmesan cheese, 2 tsp each of salt (optional or use much less), pepper, garlic powder, and dried basil.  Brush the paste like mixture over both sides of both chicken breasts.  Cover and bake 2-2 ½ hours until chicken is tender and shreds easily.    I shred it in the baking dish with the juices to keep the chicken moist.
Once cooled enough to not melt a plastic freezer bag, divide the shredded chicken into 1 or 2 cup portions and place in 1 quart freezer bags.  Squeeze out all the air, seal tight and label and date it.  The chicken should hold for 6-9 months if kept at a well-controlled frozen temperature.
To use, simply pull out a bag of chicken and put in the refrigerator to thaw 1-2 days before use, or thaw in the microwave on "defrost" for 2-3 minutes.
Chicken can also just be baked in plain olive oil, or create your own mix of spices to suit your cooking preferences.
The recipe as is above mixes well into pastas or Mexican dishes like tacos, enchiladas, or chili.
Nutrition info:
Serving size 4 oz (half a chicken breast):  204 calories, 25 gms protein, 11 gms fat (7 gms mono, 1 gm poly, 1 gm saturated), 569 gms sodium