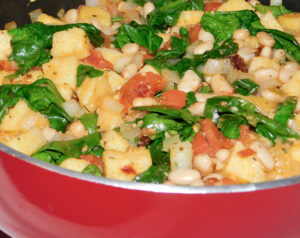 If you like comfort foods or cornbread, you will love polenta. It is an Italian based corn meal, and it offers nice texture and versatility in cooking.
Servings: 4
Serving size: 1 ¼ cup
Prep & cook time: 25 minutes
Ingredients:
1 Tbsp olive oil
1 yellow onion, diced
1 tsp minced garlic (about 2 cloves)
1 tomato, diced
¼ cup julienne-cut sundried tomatoes
12 ounces plain prepared polenta (sold in tubes with grains), diced
15 ounces no-salt-added canned great northern or cannellini beans, drained and rinsed
1 tsp dried Italian seasoning
6-9 ounces baby spinach
½ cup shredded part-skim mozzarella cheese
Directions:
Heat oil in a large skillet over medium heat. When hot, add the onions and garlic and sauté until tender, about 5 minutes.
Add both types of tomatoes and cook for 2 more minutes. Stir in the polenta and beans; cover and cook for 3-4 minutes, stirring once. Stir in the Italian seasoning and the spinach, cover and cook for about 4 more minutes until the spinach is wilted. Top with mozzarella cheese and serve immediately.
 Nutrition info (per serving):  245 calories, 7 gms total fat (2.1 gms sat fat), 10 mg cholesterol, 430 mg sodium, 800 mg potassium, 37 gms total carbs (8 gms fiber, 5 gms sugar), 13 gms protein